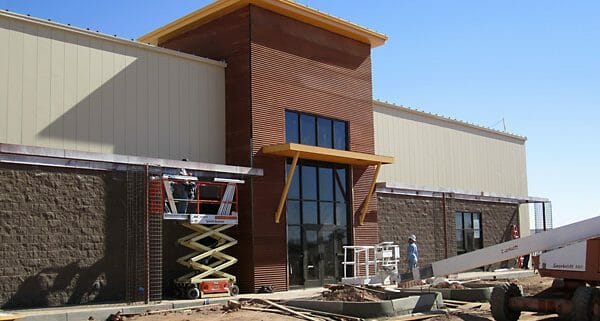 In Arizona, there are 22 federally recognized Native American tribes, communities, or nations, which encompass thousands of acres of land and ample opportunity for many private businesses to develop or locate on a reservation. Yet, many commercial developers, realtors and site selectors are unfamiliar with the process and potential benefits. Here are the basics:
Can I Buy Land on a Reservation for My Project?
Native lands cannot be bought and sold. They are owned by the federal government and held in trust for the different Native American tribes. Therefore, non-Native businesses that are looking to locate on a reservation must enter into a land lease or build-to-suit lease arrangement with the tribe.
Until recently, the Bureau of Indian Affairs (BIA) on behalf of the Secretary of Interior, had to approve all leases on reservations, but with the passing of the HEARTH Act in 2012, tribes were given the ability to control their own leases once a tribe applied and was approved.
Is Development Similar on All Reservations?
Each Native American tribe operates like its own country. Each has its own tribal government structure, sets its own tax policies, and has its own development process. On some reservations, for example, tribal members can possess individual parcels or allotted lands. What this means for business owners and developers is that if their project impacts any allotted lands, they have to get the individual owners to sign-off before a development project can proceed. The location itself may make it worth the wait, but it can add time and cost.
For instance, in the Salt River Pima Maricopa Indian Community (SRPMIC), much of the Community's property fronting the Loop 101 is allotted land. It is not unusual to have 150 (and often more) individual owners that have to agree to the lease terms. Consequently, a typical timeframe to secure a lease at SRPMIC will take about 18-24 months. On other reservations like the Ak-Chin Indian Community, there are no allotted lands. All reservation property belongs to the Tribe as a whole and its use is governed by the Tribal Council, which means a developer can start and complete projects much faster. When Ak-Chin committed to building its $50 million multi-tainment center, for example, it was designed and built in 14 months.
Isn't Ownership Preferable to Leasing?
While ownership might be preferable when the market is good and values are increasing, if the Great Recession of 2008 taught business owners anything, it is that real estate can tie up a lot of operating capital in a depreciating asset and it isn't always easy to sell when you need quick access to funds. As Steve Jaffe, the Chief Investment Officer for BH Properties, a Los Angeles-based commercial real estate investment firm, said, "Many business owners have also come to see the 'light' that owning their own real estate is a drain on their ability to grow their business."
Leasing on a reservation can have distinct advantages over ownership. First, you eliminate the large initial capital outlay for land purchase. Moreover, some tribes will roll your construction costs into a long-term lease so you can amortize your development costs over the duration of your lease. Instead of tying up a large portion of your operating capital that may or may not appreciate, you use your capital to get your company growing immediately.
Are there other advantages to locating on tribal lands?
Other benefits of tribal locations may include tribal employment incentives, tax exemptions, as well as savings on utilities and public safety, especially if these services are tribally-owned. Again, every tribe is unique, so ask about their tax policies. Your business may not only be qualified for tribal exemptions, but also State and federal incentives.
How do I allay the doubts of wary company executives?
The best way to dispel fears is to talk with current tenants about their experience. When Brent Scott, VP and General Manager of M&S Equipment, a 10-year tenant in Ak-Chin's industrial park, Santa Cruz Commerce Center, was asked this question, he said, "We had never leased in our company's history. We were a little nervous to do so. I can tell you honestly that Ak-Chin has been great to work with. They took the time and effort to listen to our concerns and wishes and structured a lease that works well for us and our style of business."
It just goes to show with a little basic understanding, tribal locations can provide great opportunities for businesses.
https://leaseakchin.com/wp-content/uploads/2016/07/MesquiteBldg-construction.jpg
340
600
terry
https://leaseakchin.com/wp-content/uploads/2016/06/SCCC_logo_RGB_214x120.jpg
terry
2016-07-12 17:06:10
2016-09-14 17:16:58
Tips for opening a business on Arizona's Native American reservations