On the southern tip of the Greater Phoenix area in the heart of Arizona's growth corridor, a small Native American tribe is offering a big opportunity to start-up operations or businesses looking to expand or relocate. Sprouting from Arizona's agricultural core and the tribe's own heritage with its Ak-Chin Farms enterprise, the Ak-Chin Indian Community has committed itself to economic diversification in the development of its industrial park, Santa Cruz Commerce Center.

The Ak-Chin Indian Community's industrial park, Santa Cruz Commerce Center, sits in the middle of the growth corridor between Phoenix and Tucson.
Beyond Arizona's own list of attractive qualities–low operating costs, high quality of life, educated workforce and minimal regulation, just to name a few–Santa Cruz Commerce Center offers advantages that are unique to Indian reservations and especially to Ak-Chin.
Among its advantages is its location, Santa Cruz Commerce Center sits in a gateway region, out of the fray of the metropolitan congestion of Phoenix, but central to major centers of commerce and ports in California, Texas and Mexico. It is close to major transportation arteries like Interstate 10 and the Canamex trade corridor, and Interstate 8. Moreover, it is less than 5 minutes from the Community's own general aviation airport, Ak-Chin Regional Airport. The Commerce Center is also conveniently located between the state's two largest universities–Arizona State University in Tempe and the University of Arizona in Tucson. Its proximity to several campuses in the Central Arizona College network and to the University of Arizona's 2,100-acre research farm at the Maricopa Agricultural Center, makes it an ideal location for food processing, agri-business supply chain, or plant science-related businesses.
The Ak-Chin Indian Community has a track record of building success in its own Community as well as the surrounding region. It has maintained a 20-year partnership with Caesar's Entertainment and recently expanded Harrah's Ak-Chin Casino Resort with the completion of a hotel tower. Other economic development projects have included the purchase and improvement of the Ak-Chin Southern Dunes Golf Club; the rebuilding of the Community's grocery, Vekol Market; and the construction of the $50 million UltraStar Multi-tainment Center at Ak-Chin Circle, which was designed and built in just 14 months. In the last year, Ak-Chin has also given the adjacent City of Maricopa a $7.4 million gift for the Copper Sky Recreation Complex, a $20 million multi-generational facility and regional park which opened in March; and donated $2.6 million to the Maricopa Unified School District.
Ak-Chin's low utility costs, unique tax savings and below market lease rates add to its attraction. Streamlined approval processes for zoning, permitting and design also aid speed to market. Just ask Hickman's Family Farms.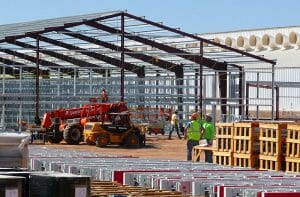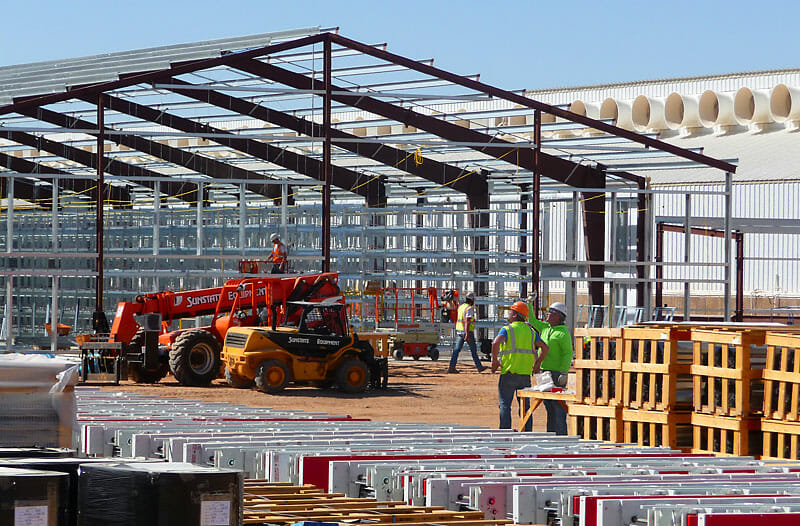 Hickman's Family Farms is in the process of expanding its egg production facilities in the Santa Cruz Commerce Center.
Since opening its facility in Ak-Chin's Santa Cruz Commerce Center in 2003, the Maricopa location of Hickman's has been steadily growing its operations. Aided by the sales tax breaks on its buildings and equipment that are among the benefits of locating on the Ak-Chin Reservation, Hickman's facilities have grown from a processing plant and four henhouses to adding a fifth poultry house in 2005. With its recent lease renewal, Hickman's is now expanding again to add another 90,000 SF for two more poultry houses on its 36+ acre site. The project broke ground in December 2013 and when complete, the total laying hen population will increase by 530,000 birds up to 1.7 million.
Hickman's Family Farms has been family-owned and operated in Arizona since 1944. From its earliest days of using one small truck to provide fresh, locally produced eggs direct to consumers and small independent restaurants to its present day multi-facility operations in Maricopa, Buckeye and Arlington, Hickman's has not wavered in its commitment to sustainability.
This sustainability vision made Hickman's a perfect fit for Santa Cruz Commerce Center. Like Hickman's, the Ak-Chin Indian Community has a deep respect for the environment and is dedicated to long-term sustainability. This created a unique opportunity for the two entities to forge a symbiotic relationship that benefits both entities. In this arrangement, Hickman's procures feed for its flocks from Ak-Chin Farms from the crops grown at Ak-Chin while the Farms use the chicken waste from Hickman's as fertilizer for growing its crops. Creative solutions like this is just one the ways Ak-Chin's Santa Cruz Commerce Center sets itself apart from the competition.
As Hickman's Vice President, Billy G. Hickman said, "With a shared heritage in farming, Ak-Chin and Hickman's have cultivated a strong partnership. In an environment committed to product excellence, long-term environmental sustainability, and high standards for food safety, our business has been able to grow and expand." Charles Carlyle, Ak-Chin Industrial Park Board Chairman concurs, "It's just a great place to grow your business."
https://leaseakchin.com/wp-content/uploads/2016/06/Ak-Chin_SW_Region_Map-72dpi_rgb.jpg
481
527
terry
https://leaseakchin.com/wp-content/uploads/2016/06/SCCC_logo_RGB_214x120.jpg
terry
2014-06-01 02:00:19
2016-07-01 15:52:10
Agribusiness Grows in Native Environment